NOAH SATERSTROM
noahsaterstrom@gmail.com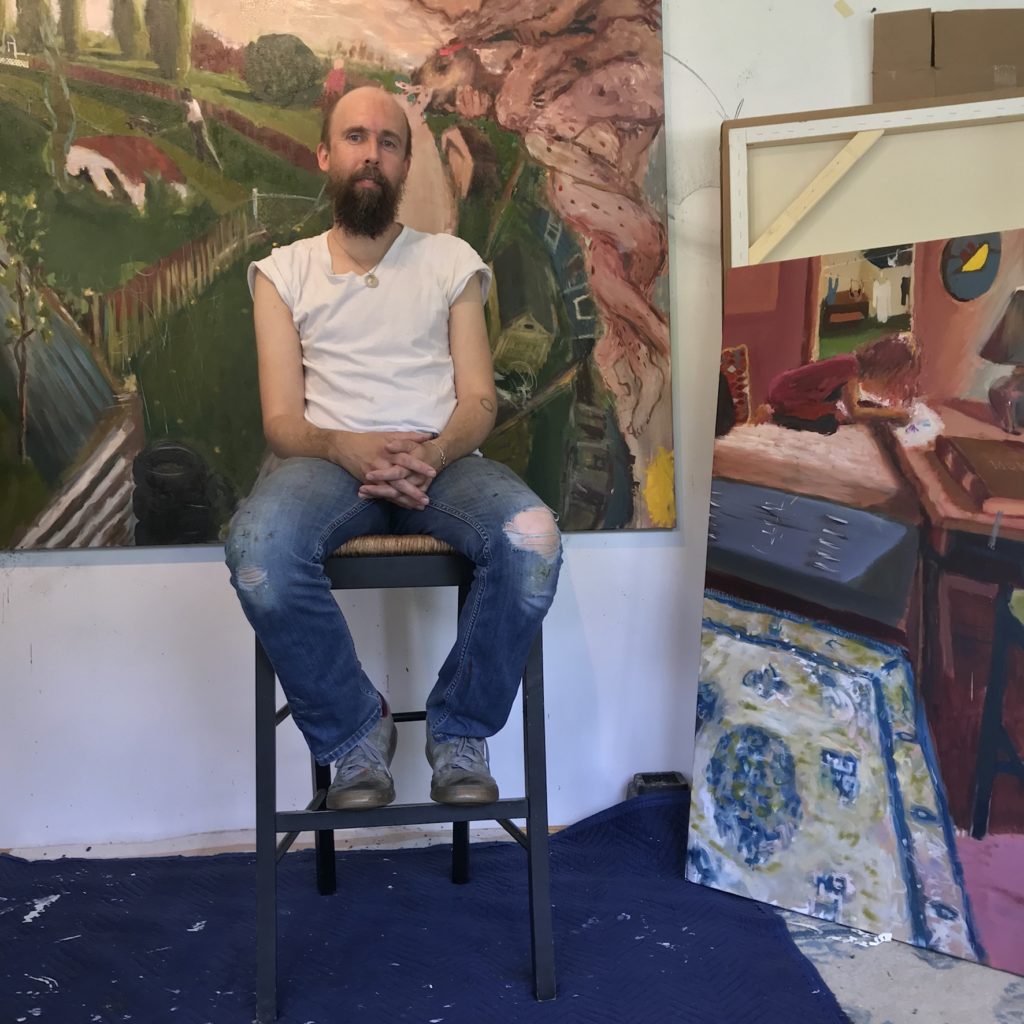 Raised in Mississippi and educated at Scotland's Glasgow School of Art, Noah Saterstrom's paintings, drawings, and animations have been shown most recently in Nashville, TN; Asheville, NC; New York, NY; New Orleans, LA; Seattle, WA; Brooklyn, NY; Tucson, AZ and Glasgow, Scotland. He has published essays and book collaborations with writers including Laynie Browne, Anne Waldman and Kate Bernheimer. He is the founder of the online art journal Trickhouse.org, and has been a regular contributor to Nashville Arts Magazine. His painting "Road to Shubuta" was acquired by the Mississippi Museum of Art in 2018. He is a lecturer at Belmont University.
Saterstrom's work resides in private and public collections throughout the United States as well as Canada, Scotland, England, South Africa, Australia, Singapore, Japan and Panama. He has been Artist-in-Residence for HRH Prince Charles at Holyrood Palace in Edinburgh, Morris and Spottiswood in Glasgow, the Virginia Center for Creative Arts, and Exploded View Microcinema in Tucson. His paintings are widely collected by the Ritz-Carlton New Orleans. Currently he is represented by the Carol Robinson Gallery, Blue Spiral 1, Fischer Galleries and Julia Martin Gallery. He lives in Nashville with his wife and three kids.
---
CURRICULUM VITAE
MFA, 2001, Glasgow School of Art, Scotland
BFA, 1998, University of Mississippi
Selected Exhibitions
2019 Studio Pictures, Gadsden Museum of Art, Gadsden, AL (solo)
2018 Folk & Figure, Blue Spiral 1, Asheville, NC
2018 Mississippi Book Festival Exhibition, Fischer Galleries, Jackson, MS
2018 Picturing Mississippi, Mississippi Museum of Art, Jackson, MS
2018 Peaceable Kingdoms, Fischer Galleries, Jackson, MS (solo)
2017 Faces of Black Mountain College, Blue Spiral 1, Asheville, NC (solo)
2017 Shubuta & Other Stories, Julia Martin Gallery, Nashville, TN (solo)
2016 Natchez Bluff, Tricentennial Celebration, Natchez, MS (solo)
2016 Bird, Muzeumm, Los Angeles
2015 When We Were Sun-Worshippers, La Esquina, NYC (Soho), NY (solo)
2015 To Match Our Dreams of Perfection, Carol Robinson Gallery, New Orleans, LA (solo)
2015 End of Summer, Caron Gallery, Tupelo, MS (solo)
2013 Babboo's Moving Pictures, Exploded View Microcinema, Tucson (solo)
2013 Devotion Exhibition, Hedreen Gallery, Seattle (group)
2013 Float Me Down the River, Carol Robinson Gallery, New Orleans (solo)
2012 Text/Image Collaborations, Counterpath Press, Denver, CO (solo)
2011 Soldatesque, Collaboration with Anne Waldman, UA Poetry Center (solo)
2011 5 Text/Image Collaborations, Holden Gallery, Warren Wilson College (solo)
2010 Now We'll Decide Who Comes From Where, Carol Robinson Gallery, New Orleans (solo)
2009 Bunny Magic, Shelton Walsmith Studio, Brooklyn, NY (solo)
2007 Offertory, Carol Robinson Gallery, New Orleans, LA (solo)
2006 Memory [Memory], public installation, Lodging House Mission, Glasgow, Scotland (solo)
2004 New Work, Artbank, Glasgow, Scotland (solo)
2003 Excavations, Carol Robinson Gallery, New Orleans (solo)
Teaching & Curating
2019 Guest Curator, Julia Martin Gallery, Nashville, Tennessee
2018 Instructor, Penland School of Crafts
2017 – 19 Lecturer, Art Department, Belmont University, Nashville, TN
2013 Guest Lecturer, The New School for Public Engagement, the School of Media Studies
2013 Drawing the Myth and Daydream, Instructor, The Drawing Studio, Tucson, Arizona
2011 Text/Image Instructor, University of Arizona Poetry Center, Tucson, Arizona
2007 Text/Image Guest Instructor Naropa University Summer Writing MFA, Boulder, Colorado
2005/6 Adjunct Arts Instructor, Western Carolina University, Cullowhee, North Carolina
2003-6 Art Faculty and Gallery Director, Warren Wilson College, Swannanoa, North Carolina
Visiting Artist & Lectures
2018 Bringing Forward the Past Symposium, Mississippi Museum of Art
2016 Guest Instructor, Mississippi Art Colony
2014 Paperworks, Tucson, AZ
2012 Poetry Off the Page Symposium, Panel Moderator, UA Poetry Center, Tucson, AZ
2011 Empty Houses video screening, Pace University, Warren Wilson College
2011 Guest Lecturer, Univ. of Dallas, Appalachian State University, Western Carolina University
2010 Guest Lecturer, Univ. of AZ Poetry Center, Fairfield Univ. Writing MFA
2010 Empty Houses video screening, New Jersey Inst. of Technology,
2009 Empty Houses video screening Univ. of Denver, Katrina Conference
2009 Plaster casting workshop, Central School Project, Bisbee, Arizona
2008 Guest Lecturer, Univ of Arizona
2005/6 Guest Instructor, Mississippi Art Colony
2005/6 AP Reader/Consultant, College Board, College of New Jersey
2004 Head Judge, South Carolina State Fair Fine Art Competition
2003 Guest Instructor, Glasgow School of Art, Painting Department
Books, Articles, Essays and Publications
2019 New York Times Style Magazine, TMicronovel with writing by Laura Sims
2017 – 2018 Regular contributor to Nashville Arts Magazine
2013 Floater, with text by Kate Bernheimer, drawings by NS, Origami Zoo Press
2013 A Conversation with Timothy Hyman, interview, Trickhouse.org
2012 Soldatesque/Soldiering, DVD 20min video, with text by Anne Waldman, paintings by NS, soundtrack by Ambrose Bye and Daniel Carter, essay by Bill Berkson, Fast Talking Music.
2011 Soldatesque/Soldiering with Dreams of Wartimes (with text by Anne Waldman), Blaze Vox Books
2011 Wastrels Hatch a Plan (with text by Kate Bernheimer), Drunken Boat #14
2011 Symmetry, collab. Timothy Dyke, The Spirit of Black Mountain College, Lorimer Press
2010 Ghosty (with text by Kristen Nelson), Drunken Boat issue 11
2009 Empty Houses, 30min video essay
2007 Amateur Art: an essay / Denver Quarterly, Spring 2007
Grants, Residencies and Awards
2013 Artist residency, Exploded View Micro-cinema, Tucson, AZ
2012 New Works Project Grant, Tucson Pima Arts Council, Tucson, AZ
2010 Curator-in-Residence, Central School Project, Bisbee, AZ
2009 Artist-in-Residence, Central School Project, Bisbee, AZ
2008 Recipient, Bisbee Arts Council Project Grant
2005 Visual Arts Fellow, Virginia Center for the Creative Arts
2005 Public Artworks Project Grant recipient, Arts and Business, Edinburgh, Scotland
2001 Isle of Arran Distilleries Graduate Fellowship, Arran, Scotland
2000 Artist-in-residence, HRH Prince of Wales, Palace of Holyroodhouse, Edinburgh, Scotland
Organizations:
2008 – Present Founder/Curator, Trickhouse.org, Cross-disciplinary Arts Journal
2010 – 2014 Co-organizer Trickhouse Live performance series, Casa Libre en la Solana
2010 – 2014 Board Member, Casa Libre en la Solana
2010 – 2013 Grants Committee Member, Tucson Pima Arts Council